Richards of Hull

Air Pollution Control with Filtaire Recirculation
---
A stack of high speed rotating discs of bonded polypropylene filtration media (Class EU4) extracts particulates (dust, dust mites, pollen, etc.) and projects the air at an acute angle against the activated carbon static filter to absorb gasses (formaldehyde, benzene, xylene, etc) and airborne bacteria and microfungi.
The rotating filters can be cleaned by washing/beating and can be used repeatedly, the static filter will need to be replaced as determined by the operating conditions; this can in many domestic or light commercial situations be done annually.
Custom Filter Combinations
Whilst darkrooms, labs or nursing homes might use the standard units to advantage, dust might be the main concern or retailers and restaurants might require to preserve the smell sensation but control the dust, pollen and bacteria - Static Filter options are available to meet these requirements and also those for more stringent elimination of chemical and solvent contaminants
The Filtaire provides clean air for all indoor applications, and is used in darkrooms, hospitals, laboratories, care homes, public houses, industrial premises and retail outlets, and is extensively used by sufferers of asthma, hayfever and breathing related allergies in their homes.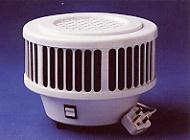 Filtaire 300
Two-speed model, table-top or wall mounted, 280mm dia - 240mm high
The standard speed for continual cleansing, processing 4m³/min (140cfm), is quiet running, suitable for use in bedrooms, with a boost speed at 6m³/min to deal with heavy concentrations of dust, pollens or odours.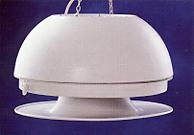 Filtaire 200
This unit is suspended from the ceiling and thus can be positioned within the room out of reach and to the best effect. It is a single speed model and can be wired to a light switch, processing 8 cubic metres of air per minute (282 cfm)
The only sound is the windrush - and barely audible.
"The chains are to be supplied by the electrical fitter"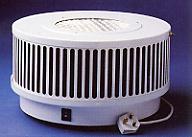 Filtaire 600
A powerful unit - 430mm dia (17") processing 20m³/min (700 cfm) for large concentrations of pollutants - the sound of windrush is noticeable but not so much as might inhibit conversation. This model can be freestanding, wall mounted, suspended or fixed directly to the ceiling
---
Richards of Hull

tel +44 (0) 1482 44 24 22 ...... fax +44 (0) 1482 44 23 62

Unit 1, Acorn Estate, Bontoft Avenue, Hull HU5 4HF, England

Contact email to sales@richards.uk.com

Solvent Emission in Screen Printing
Extraction and Air Replacement
Return to the Front Page

Copyright (C) Norman C. Richards November, 2002
"Filtaire" is a trademark of Patent Filtration Limited, UK